Oily Cart produces and tours sensory theatre shows for disabled babies, children and young people to venues and specialist schools across the UK.
Highlighted campaigns
Jamboree
Uncancellable Programme Announcement
Jamboree The Album
Space To Be
Ellie Griffiths News Announcement
I have been working with Oily Cart since January 2019. I work on PR for the shows Oily Cart produce and also work closely on brand and profile-raising.
"Working with Binita has been a real pleasure, her warm and energetic style has made it feel a very positive collaboration. Her strong values have felt a very natural fit with our work and vision. Binita has the ability to really get beneath the surface with an organisation, deeply understanding our audiences and identity. She is a great connector and works in a really thorough, holistic way, bringing an impressive range of skills and experience to our work. Binita has really progressed our PR work and had a big impact on Oily Cart in her time with us."
Ellie Griffiths, Artistic Director, Oily Cart
Jamboree
---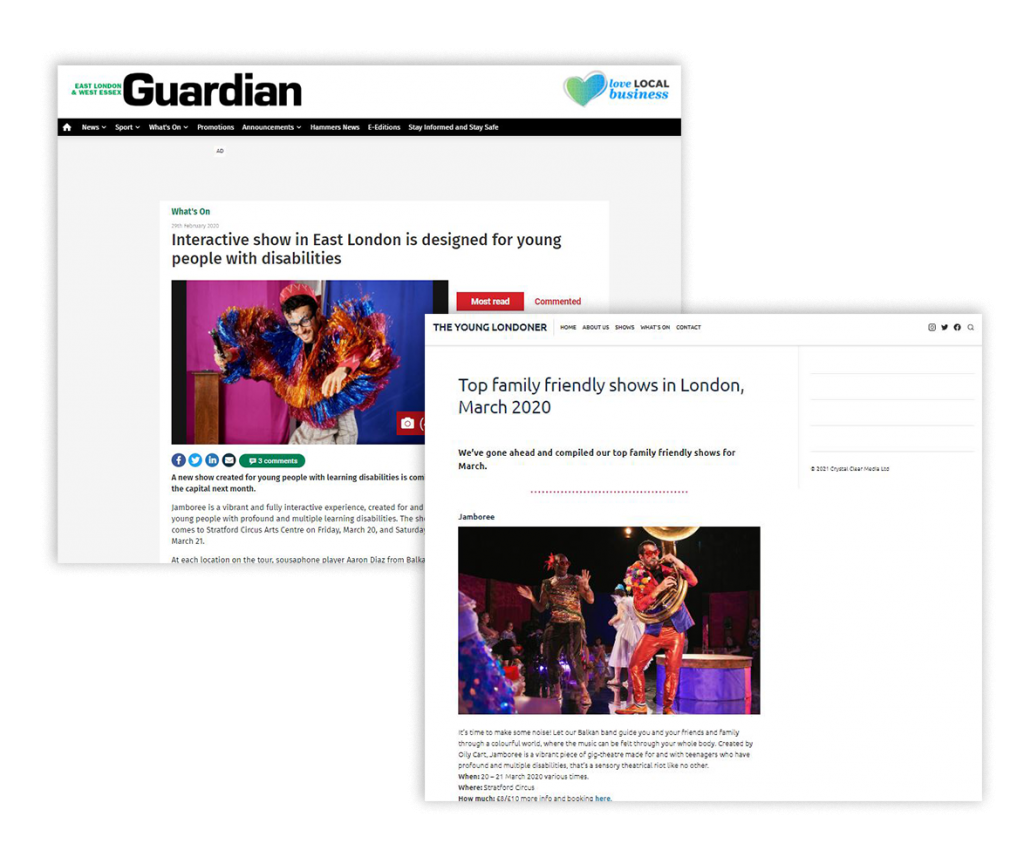 Jamboree embarked on a UK tour in Autumn 2019. A Spring 2020 tour was cut short due to Covid-19. JAMBOREE is a vibrant piece of gig-theatre made for and with teenagers with have profound and multiple learning disabilities. Press Release
Epping Forest Guardian – full preview with images (London)
The Young Londoner/YoungLondonist – preview (London)
Other press included previews and listings:
Kids Culture Whisper, The Guardian Guide, Parent Folk, The London Mother, Disability Arts Online, Fantastic for Families
The Culture Diary, Tower Hamlet Mums, Stage Door app, Families, London Town, Derby website, At The Theatre, WhatsonStage
The List, Fantastic for Families, The Culture Diary, Watford Observer – East London Guardians, The Young Londoner/YoungLondonist, PMLD Link, PMLD Sensory Teaching
Epping Forest Guardian, Newham Music Hub, The Bubble Club, Where Can We Go, All in London, Derby Days Out
Uncancellable Programme Announcement
---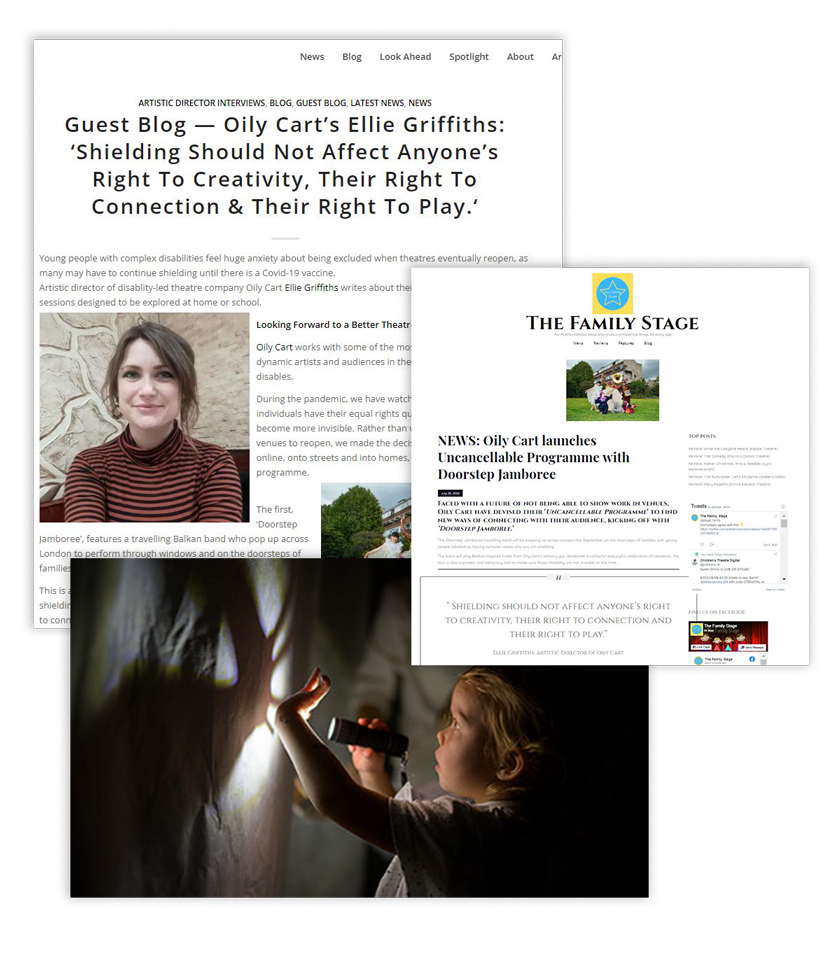 Jamboree The Album
---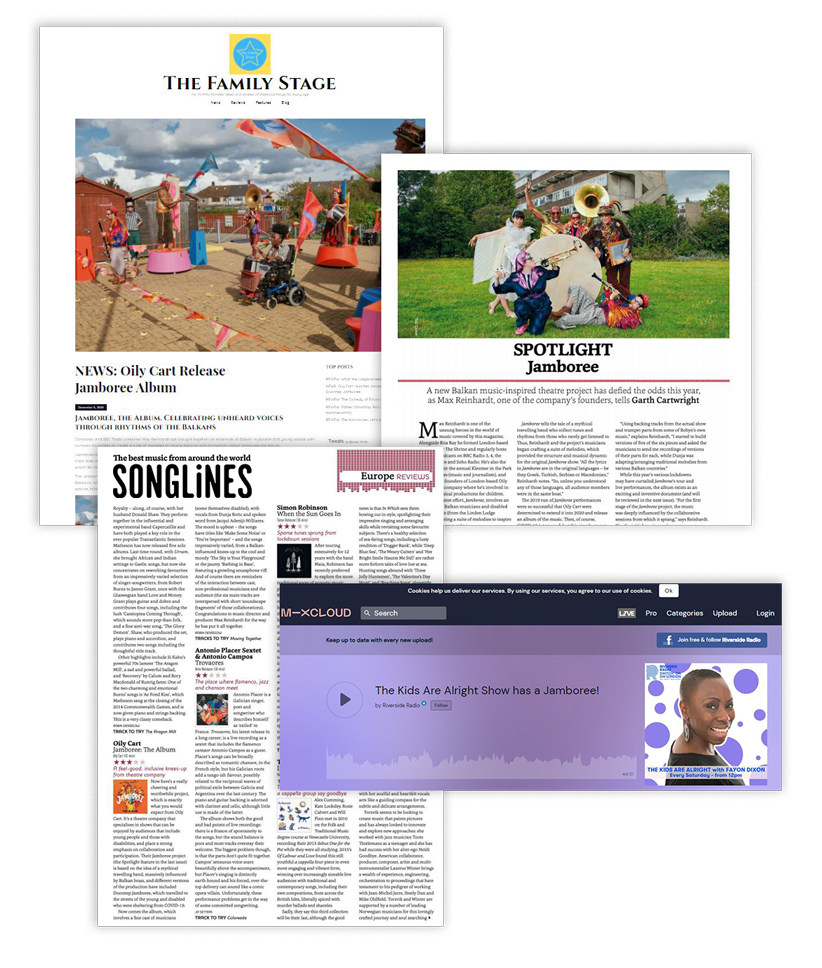 This was an album created by the Jamboree Band. It is available to buy and we received interest in our target press. Press Release
PMLD LINK – Newsletter
Dash Arts – Blog post
The Robert Elms Show – Radio Show on 2nd December at 1:05pm with Max Reinhardt 20 Minute feature with two songs played
Riverside Radio – Local Radio
Songlines – World Music Magazine with feature by Garth Cartwright and a review
Riverside Radio Arts Programme – Radio Show on 8 January,
Riverside Radio – Artswatch
Family Stage – Online
Space To Be
---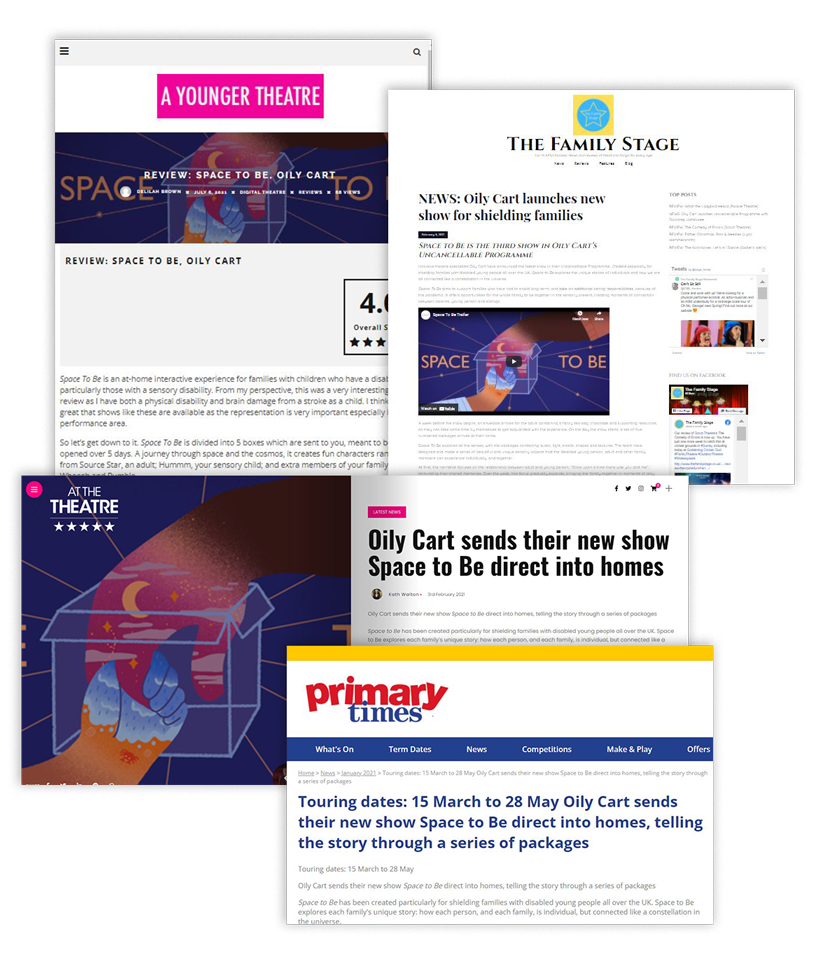 Ellie Griffiths News Announcement
---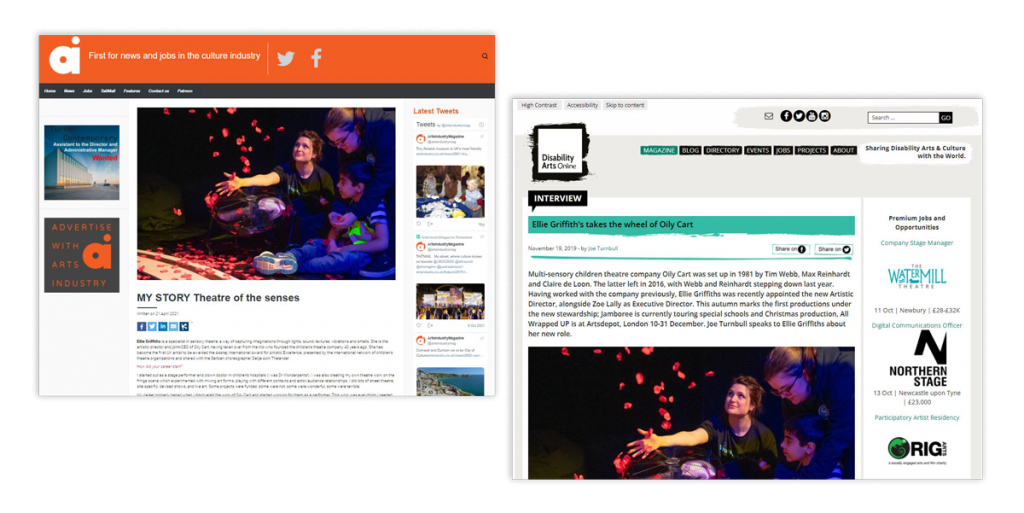 Outcomes:
---
Outcomes:
The press and media love Oily Cart and because they have worked with a retainer PR for many years they have established themselves and their name and work is familiar and well loved. We receive excellent press interest across the board. I am embedded in the company and provide support in many different ways.
Recently I have been supporting Oily Cart in the launch of their report and suggested that they hold an event with some performances from the artists as well as a roundtable discussion. They decided to go ahead and have taken over 100 bookings.
I have also courted and successfully procured a high profile Ambassador for the company in 2021.